Working With Mike: What to Expect
A message from Mike:
"Congratulations on taking the first steps in creating a better financial future.  My financial planning process starts with putting together a financial plan.  This allows us to look at your big picture and that guides us to see where we can help.
Our first meeting will generally be about getting to know each other in order to see if we will be a good fit.  On the first or second appointment, I will start to gather information from you about your current assets, family and goals for the future.  It is not necessary for you to know exactly what your goals are (for example, "I want to retire at 66 and live on $150,000/year in retirement") because I know the questions to ask (for example, "what keeps you up at night regarding your retirement"?).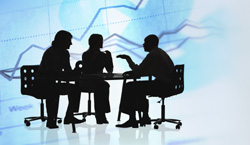 After the fact finding stage is complete, I will put together a customized financial plan with your information.  We will then meet to review the plan, answer any questions that you have and then I will present my recommendations.
The next steps are to discuss the recommendations, give you time to evaluate and prioritize and then we can implement.
That is the start of our relationship.  Once plans are implemented, they need to be reviewed periodically.  We will set up a schedule to see how often we want to meet or speak to review.  Certainly, if something changes on either end, we will want to communicate that to each other.  Never hesitate to call or email me with questions.
Lastly, every few years it makes sense to redo your plan.  As changes in your life occur, we want to try to stay on track with your financial goals."
For a checklist of documents to bring to your first appointment, click here.
"The checklist is a guideline of what to bring to our first meeting.  Don't worry if you don't have it all at the start.  I will probably have some additional questions or homework for you to do before our next meeting."